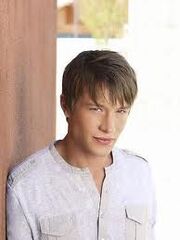 A kind but self-centered child, he is in the band with the school bully, Ray Beech. He plays guitar, but sings sometimes which he does in the "Rising Star" competition. He is also star soccer player at his school. Principal Brenigan likes both members of Mudslide Crush and gets special treatment such as only a warning when he skips class. He is caught cheating on Mohini Banjaree and the two seperate for a while. At the "Rising Star" competition he switches bands when Lemonade Mouth struggles with their song. He and Mo start dating again after he joins Lemonade Mouth.
Ad blocker interference detected!
Wikia is a free-to-use site that makes money from advertising. We have a modified experience for viewers using ad blockers

Wikia is not accessible if you've made further modifications. Remove the custom ad blocker rule(s) and the page will load as expected.