Mo is Indian. She is the base player of lemonade mouth. She is dating
Scott
.Her and
Scott
went out for a little by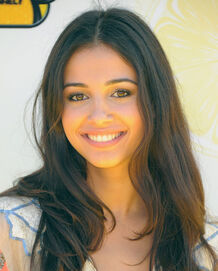 when he does not want her to be in a band they break up,but then get back together.
Mo has a strict dad whom always has her under his thumb meaning he never gives her freedom
.So Mo always lies to him.Then she tells him how she feels and he gives her the freedom she wants. Mo's real name is Mohini Banjeree in the movie, and Mohini Banerjee in the book. Mohini is Sanskrist for "Enchanting." She is played by Naomi Scott, a british actress also in the Disney Channel U.K. show Life Bites and in the upcoming T.V show Terra Nova. She is often described as smart, practical, and socially inept.
Ad blocker interference detected!
Wikia is a free-to-use site that makes money from advertising. We have a modified experience for viewers using ad blockers

Wikia is not accessible if you've made further modifications. Remove the custom ad blocker rule(s) and the page will load as expected.