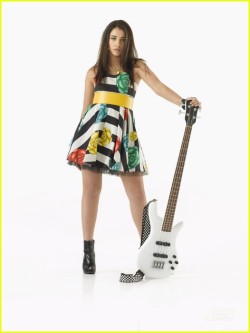 Mohini "Mo" Banjaree is an intelligent, rocking girl with a clear passion to express who she is. Problem is, under her strict, foreign father it is hard to do much everyday teenage stuff. While Mo's mom is carefree and has Mo experience things she should experience at her age. Her boyfriend is Scott Pickett. Charlie also has a crush on her but Mo was not interested until he tells her. Mo's dad sees and get worried Mo plays the violin and wears sweaters around the house and while her dad drives her around, but when she's at school she switches her sweaters for dresses and her violin for a bass guitar. She has quite a roller coaster life but she knows she has her friends/band mates by her side. She also has to sneak around to date Scott.
Hey people! Click here for the offical "Lemonade Mouth" trailer!
Ad blocker interference detected!
Wikia is a free-to-use site that makes money from advertising. We have a modified experience for viewers using ad blockers

Wikia is not accessible if you've made further modifications. Remove the custom ad blocker rule(s) and the page will load as expected.