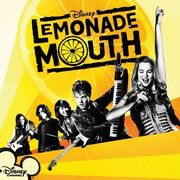 The
Lemonade Mouth
pop music soundtrack will include nine original songs by songwriters Aris Archontis, Maria Christensen, Ali Dee, Andy Dodd, Tom Leonard, Jeannie Lurie, Niclas Molinder, Chen Neeman, Joacim Persson, Lindy Robbins, Shridhar Solanki, Shane Stevens, Matthew Tishler,
Bryan Todd
, Reed Vertelney and Adam Watts. The soundtrack is set to be released by
Walt Disney Records
on April 12, 2011. On April 9, 2011,
Radio Disney
planet premiered the soundtrack.

"Somebody" was the first single of the album, premiering on Radio Disney on March 4, 2011. A lyrics music video was released on the Disney website later that same day. On March 18, 2011, the official music video for the song premiered on Disney Channel during a special Prom-themed The Suite Life on Deck.
Ad blocker interference detected!
Wikia is a free-to-use site that makes money from advertising. We have a modified experience for viewers using ad blockers

Wikia is not accessible if you've made further modifications. Remove the custom ad blocker rule(s) and the page will load as expected.